With new loans being added to the LendingCrowd Loan Market every week, it's easy to miss out on an investment opportunity. One easy way to prevent this is to make use of our Autobid feature.
Autobid as the name suggests, will automatically place bids on your behalf within a predefined set of constraints controlled by you.
Getting Started
Once you've logged into your account click the Autobid link from the navigation menu. Autobid is initially disabled, but all you need to do to enable it is choose what sort of investments interest you, and how you'd like Autobid to bid for you. The first thing you may wish to configure is the type of loans you'd like Autobid to bid on and the maximum you'd like it to place in each loan:

There are 3 variables here which you can configure:
Maximum percentage of portfolio lent to one business 
This setting ranges from 0.5% to 5% and it configures how much money can be invested in a single loan on the market. Your portfolio is the sum total amount you have in available funds, live bids and loan parts. You can find this information from your Dashboard: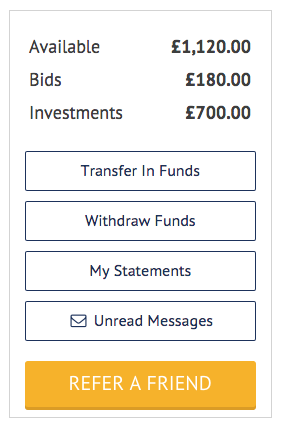 In this example, there are £1,120 funds available, £180 in bids and £700 in investments, making the total portfolio equal to £2000. If the maximum percentage is set at 5% then the most Autobid would attempt to place in a single loan is £100.
As your portfolio grows and you earn interest on investments the amount of money available to Autobid for bidding will also increase, making this a great way to automatically re-invest earnings into new opportunities.
Sector
This allows you to restrict Autobid to only bid on loans for companies which operate in specific industries (e.g. Finance, Manufacturing, Retail etc). If there are loans on the market but none of them meets your sector criteria then Autobid will not bid on them, but you can still manually place a bid should you choose to do so.
Region
Much like sector, this setting allows you to restrict Autobid so that it will only bid on loans for companies registered in a specific UK geographic region (e.g. London, Scotland, Wales etc).
Available Funds
While not configurable, this is the total amount of funds available to invest at the current moment in time. This does not mean that Autobid will attempt to invest £1,120 in the next loan that meets the configured criteria it merely means that up to £1,120 is available for investing, either manually or via Autobid.
Configuring Individual Risk Bands
The next (and final step) in setting up Autobid is to decide what risk bands you'd like to invest in and what rate Autobid should be investing at:

Each risk band has two configurable items:
Enabled – when checked Autobid will bid on loans at this risk band.
Offer Rate – the rate Autobid will use for each bid placed against loans at this risk band.
In addition, the following information is provided for each risk band:
Cur Avg Rate – The average rate for the last 20 placed bids on loans in this risk band.
Est Bad Debt – The estimated bad debt at this risk band. This figure is the percentage of your overall investments at this band which you could lose through defaults or missed repayments.
Est Net Return – The estimated net return at this risk band. This is the estimated percentage as interest that you'll get back in repayments. The figure is calculated from the 'Offer Rate' minus the 'Estimated Bad Debt' and our 1% investor fee.
Once you've configured your risk bands click "Save Changes" and Autobid is ready to go!
What Happens Next
Within minutes of your Autobid being enabled on your account, it will start looking for investment opportunities matching your preferences. If one is found a bid will be placed in the same way that a manual bid would be placed.
Frequently Asked Questions
Is there a maximum amount that Autobid will place on a single loan?
In addition to the "Maximum Percentage Portfolio" configuration, the most Autobid can place for you on a single loan is 10% of the total loan amount. E.g. on a loan of £30,000 the most Autobid would place for you is £3,000.
Can I place manual bids on a loan that Autobid has already bid on? 
Absolutely! Autobid acts independently from your manual bids and your Autobid preferences have no effect on how you place manual bids. E.g. If you've configured Autobid to only Finance loans in London you'll still be able to place a manual bid on a Retail loan in Scotland.
0.5%-5% of my investment portfolio is less than £20, will Autobid place a bid?
In this instance, Autobid will place a single £20 bid (assuming that you have the funds available to cover the bid).
How do I know which bids have been placed by Autobid?
Bids placed by Autobid will be shown on the loan details page and are marked with an asterisk, E.g:

Is a bid placed by Autobid different to a manually placed bid?
Bids placed by Autobid are identical to manual bids. The only difference is that the bid was placed automatically. Autobid plays by the same rules that manual investors follow.
Will Autobid place more than one bid?
Autobid can place more than one bid if you add more funds to your account.
Future Enhancements
We're constantly improving features at LendingCrowd, and Autobid is no exception. Over the next few months we plan on making Autobid even more flexible and easy to use. Please leave any suggestions or feedback you have in the comments below.