Cash flow is the total amount of money being transferred into and out of a business, especially affecting liquidity.
Why is it important?
Strong positive cash flow keeps a business alive and helps you fuel growth. Poor cash flow can ultimately see you go out of business. If you are experiencing cash flow issues, you need to get to the root of the problem as quickly as possible. Many businesses lack the tools to properly model their cash flow. A detailed understanding of your business and how cash flows through your business is key if you are not to come unstuck.
Key cash flow challenges
There are a number of potential trip wires you need to watch out for that can be potential warning signs that all is not well with cash in the business. These can include:
Overtrading: Growth does not always equate with an improving cash position. You may find that costs are increasing as you grow at a greater rate that you can recover cash back into the business, resulting in a weakening cash position. Having sufficient funds to fuel growth is key.
Late Payment of invoices: Extending customers too much credit or falling victim to slow paying customers (or ones that don't pay at all!) can put your cash position under pressure. It's important to build a financial model on the actual time it takes your customers to pay, not what is printed on the invoice! 
Stock: There needs to be enough stock in your business to meet demand, however if you have too much cash tied up in stock and can't shift it quickly enough, then this can adversely affect your cash position.
Seasonal Demand: Many industries experience seasonal fluctuations over the course of a financial year and need to build cash to see them through leaner months.
Sales & Pricing: it may be simply that you are not charging enough for your product or service, or that you are missing your sales targets.
A key issue for many businesses with these types of cash flow challenges is the inability to properly predict or identify problems before they become critical. The more advance notice you can get of an impending financial road block, the easier it will be to take action, potentially in the form of some sort of funding to bridge potential gaps. 
The emergence of online cash flow applications
Alongside the rapid growth in online accounting tools such as Xero, Quickbooks and FreeAgent has been the emergence of specialist cash flow tools and apps designed to help business owners construct accurate cash flow models to understand potential stress points in their business and to plan accordingly.
With a range of online cash flow tools to choose from, we review 5 of the top cash flow tools that could help you better plan your company's financial requirements. Read on to discover which cash flow tool may be best suited to your business!
Pulse
Pulse is a platform solely dedicated to enabling you to easily manage, assess and review your cash flow. The software allows the user to manually input information or import data from a spreadsheet to generate a cash flow model that can be viewed in a time frame of your choice (daily, weekly or monthly). The software will also produce impressive graphics from the data, helping the user to more easily digest the information through visualisation.
Additionally Pulse includes collaboration features that enable multiple users to view and edit information as they see fit, whilst also allowing them to add notes to your list of incomes and expenses that can easily be shared with colleagues or consultants.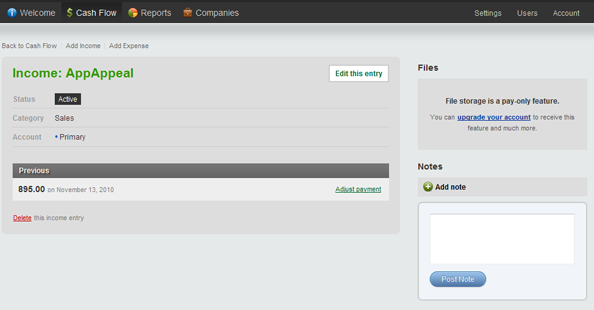 Float
Float, like Vistr, is also designed to run in conjunction with complimentary accounting software. In this case, it can be with QuickBooks, Xero or FreeAgent. Float automatically analyses the data entries from your accounting software to seamlessly produce live and accurate budgets and sales forecasts within minutes. Float has been built with the business owner in mind, and is primarily orientated around keeping them informed on what to them, is the most important metric – cash. This is again  done by syncing with your accounting data to provide effortless updates.
Built-in tools make it easy to test the numbers, drill down to specific data points, generate reports, and assess? the impact of your earnings and expenses to determine your current financial position.
Float doesn't overwhelm you with an abundance of numbers, and its simplicity can allow for clearer decision making.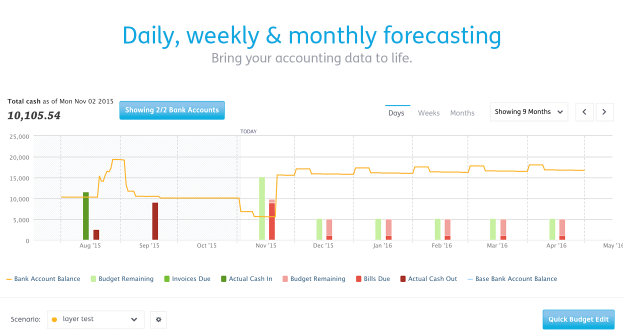 Vistr
Vistr's online software is designed around the need to provide automated cash flow projections that reduce the time you spend on data preparation, helping to save you valuable time that can be more effectively re-invested into your company.
Vistr's software runs best in cooperation with Xero's accountancy platform. The benefit of integrating both platforms is Vistr's software will import and analyse historical financial data from Xero, and then proceed to produce more accurate cash flow projections due to having had greater access to a larger volume of data for the algorithms to make use of.
Additionally, Vistr will keep you updated with planned payments, and like the other platforms in the market, Vistr will lay the data out in a digestible fashion that makes for an easier comprehension of your cash flow position.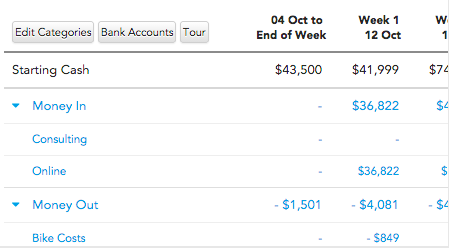 Dryrun
Dryrun is a platform centred around simplicity and flexibility, with the focus of its software being the ability to deliver cash flow management and financial forecasting services that are solely intended for the use of small businesses and their accountants.
However, Dryrun differs to market place competitors by offering a scenario based approach to their financial forecasting. The software flags potential issues and delivers important analytics like sales forecasting, which enables business owners to weight their options up and provides them with a valuable insight in to how they may best proceed to maximise their potential gains.
Dryrun also makes use of an intelligent and visually stimulating interface that can facilitate an easy collaboration from your accountant.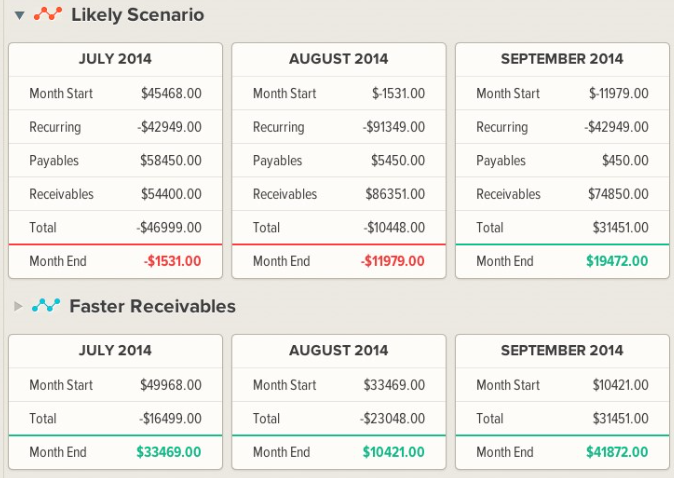 Calxa
If you're not a fan of complicated spreadsheets and confusing formulas, Calxa may be for you! Calxa is a cash flow and budgeting software marketed towards small businesses, with in built tools designed to address your fundamental cash flow needs: automatic calculations, cash flow schedules and forecasts, project budgeting, key performance indicators and customisable reports.
One of their key features is the "where did my money go report". The software analyses data and provides a summarised report that details a sufficient level of information to enable solid decision making based from a snapshot of your current position.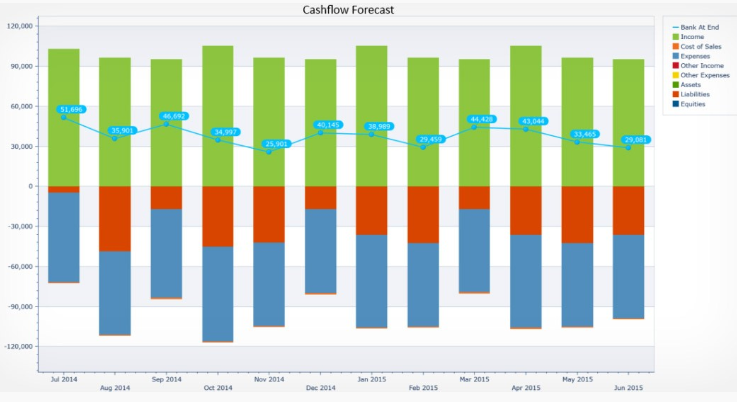 Pricing
Summary
Depending on your individual needs, there are a number of platforms offering the cash flow tools that you may require at differing price points. All the platforms covered share a relatively large number of features, so check them out in more detail to discover which one may suit your needs best. It is not an exhaustive list so if you have a personal favourite not listed above, let us know.