This is the last in our series of How To guides explaining in detail the process of investing with LendingCrowd. We hope the guides have helped answer some of your questions about creating and using your LendingCrowd Investor Account, but please feel free to get in touch with us if you have any queries. This guide explains how to diversify your portfolio and why we recommend that all investors do this. For more information on investment risk, please see our Risk Matters page.
Remember that all investments carry risk.
What is diversification and why your should diversify your portfolio
Diversification simply means investing your money into lots of different loans, to spread your investment risk as broadly as possible. There are several things you can do to help reduce the risk of lending, but it's important to remember that there will always be risk involved when you invest.
Diversifying your portfolio by lending smaller amounts to lots of different businesses will help reduce the impact of any bad debt on your overall investments. The greater the number of investments you have, the lower the effect of bad debt on your portfolio.
To give you some information about the default rates we have estimated for the loans we offer,  we have produced the following estimated future default rates for each Credit Band to help you decide which loans you would like to invest in.
| | |
| --- | --- |
| Credit Band         | Estimated Default Rate       |
| A+ | 0.5% |
| A | 1.0% |
| B+ | 1.5% |
| B | 2.25% |
| C+ | 3.0% |
How to diversify your portfolio
The Loan Exchange allows you to instantly invest in loans that have previously been successfully funded through loan auctions. Our previous How To guide goes through the process of buying loan parts on the Loan Exchange. You can lend to these businesses immediately, without having to wait for a loan auction to finish, and you will start accruing interest on the day you buy the investment. This makes the Loan Exchange a great place to start for both new lenders who are looking to spread their investments across multiple loans and existing investors who want to increase the number of businesses they are lending to.
There are lots of different investment opportunities on the Loan Exchange which have a variety of business sectors and risk bands to give you a wide range of loans to invest in.
What to remember when diversifying your investments
The first thing to remember is that you should read all the information about each loan carefully before you decide whether you want to invest in that loan. We provide information about each business and why they are seeking funding, detailed financial information, and independent credit scores to help you make an informed choice about which businesses to lend to. You can also ask questions to the borrowing companies to help you get more information. You can read about the information available to you about each loan in our blog post.
Lending to a wide number of businesses is the best way to spread your investment risk and help reduce the impact of a default, but there are a couple of other things you should keep an eye on to make sure that this diversification is as broad as possible.
It is important to make sure that you are investing in multiple businesses, as well as in multiple loans. Businesses may have more than one loan, and investing in multiple loans for the same borrower could have a higher overall impact on your portfolio if the business becomes unable to repay.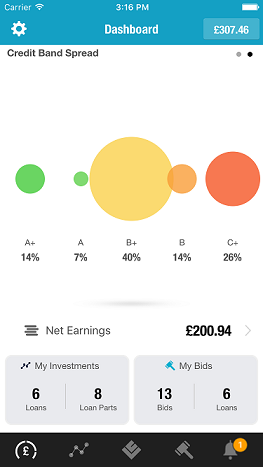 You should make sure that you are lending to businesses across a variety of sectors, to reduce the likelihood that an event negatively affecting one sector will impact on your investments.
We also encourage lenders to invest in loans across different risk bands and loan terms, to make your investment portfolio as varied as possible. If you use our iOS app, you can see in your Investor Summary the spread of your investments across the risk bands.
Conclusion
We hope this guide has helped you learn how to diversify your portfolio, which will help reduce the overall impact of bad debts on your investment returns. LendingCrowd's Loan Exchange makes it easy to invest instantly in a wide variety of loans across different sectors and risk bands.
If you have any questions please email investor@lendingcrowd.com or call 0131 564 1600.