We begin 2018 with some exciting news for investors who want to take an income from their peer-to-peer loans. Our platform was designed to offer higher returns than your cash would earn in a bank account, but we know many of our customers were looking for their investments to generate an income as well.
Our new Income Account, which offers a target return of 5.6%*, works in a similar way to our Growth Account, automatically investing your funds across all the loans available on our Loan Market. The key difference is that we'll transfer your interest payments to your main Self Select Account so you can withdraw them – with no fees – while your capital repayments will be automatically reinvested.
The Income Account is available now for existing Growth Account and Growth ISA investors. To access it, log in to your LendingCrowd account and select Manage account on your Growth Account or Growth ISA. Select Income Mode from the Manage your repayments section of your dashboard and click Confirm as shown below.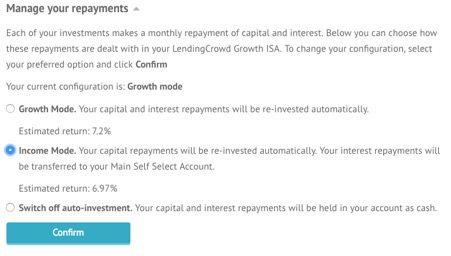 Expanded ISA range
The new year is an ideal time to consider whether you've made full use of your annual ISA allowance, which stands at £20,000 for the current tax year ending on 5 April.
A highlight of 2017 was the launch of our Innovative Finance ISA – one of the first from a peer-to-peer lender – which enables you to earn tax-free** returns on your investments with us.
In February, we introduced the passive Growth ISA, which has a minimum investment of £1,000 and a target return of 6%*. This was joined in May by our active Self Select ISA, which can be opened with a minimum of £20 and lets customers choose their own investments.
With our new Income ISA, we now offer three Innovative Finance ISAs – because we know that savvy investors value choice when it comes to putting their hard-earned cash to work. Whether you're looking for a quick and simple way to automatically invest in a diversified portfolio of asset-backed loans, or want to hand-pick from the range of credit-assessed small businesses on our platform, we have the ISA option for you.
*Capital at risk. Variable target rate net of repayments fees, estimated bad debt and any promotion awards, and before withdrawal fees.
**Tax treatment depends on the individual circumstances of each investor and may be subject to change in future. LendingCrowd and its products are not covered by the Financial Services Compensation Scheme.