Peer-to-peer research specialist Orca has published a review of our platform, which you can read below.
LendingCrowd review
Lending figures at the only Scottish based peer-to-peer lending (P2P) platform, LendingCrowd, have risen dramatically in 2017. Cumulatively, the platform has lent £20.4 million since the company was founded in September 2014, with £12 million of loans written in 2017. An increase in borrowers requiring capital on the platform has created a demand for new lenders. New and existing lenders on the LendingCrowd platform will receive a bonus of £200, if they invest £5,000 or more.
Borrowers on the LendingCrowd platform fit a very similar profile to that of the UK's largest P2P platform, Funding Circle. Although there are a couple of small nuance differences which will interest investors, the way in which the platform operates is also very similar to Funding Circle.
LendingCrowd has two products: the 'Self Select' where investors manually choose their borrowers and 'Growth' where funds are automatically allocated to a number of borrowers. Both the Self Select and the Growth products can be held within a LendingCrowd Innovate Finance ISA (IFISA) as well as a General Investment Account (GIA). In contrast, Funding Circle is still not offering an IFISA, which is expected to be 'launched this tax year'.
The ability to manually select borrowers, who meet a similar profile to Funding Circle borrowers, may interest some Funding Circle investors. In September 2017, Funding Circle removed the functionality for investors to manually select their borrowers, forcing all investors to invest through the Funding Circle auto-bid function. Prior to this change, 27% of new investors on Funding Circle favoured the manual, self-select option. Clearly there are investors interested in this functionality.
We're keen to dig into the details of the Edinburgh based peer-to-peer lending platform and draw parallels to its much larger peer, Funding Circle.
LendingCrowd amount lent
The amount of lending LendingCrowd has initiated is modest in comparison to the large UK P2P platforms, however it is growing rapidly. As well as direct retail investors, Scottish Enterprise is lending through the LendingCrowd platform, similarly to the British Business Bank lending through the Funding Circle and RateSetter platforms.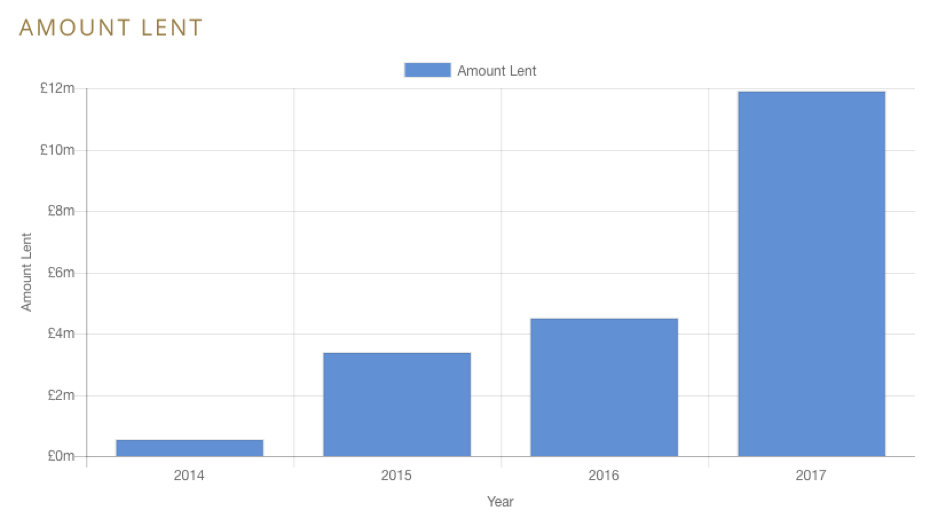 Figure 1: LendingCrowd amount lent
As the majority of lending, over 50%, has occurred in 2017 and with loan terms ranging from 12 to 60 months the amount of principal outstanding in recent years is high.
Figure 2: LendingCrowd principal outstanding
The table below shows that of the 205 loans accepted by LendingCrowd, 103 of these have a term of 60 months (5 years). Loans that are still in circulation are still at risk of default and a true assessment of the quality of these loans will not be known until the terms complete.

Figure 3: LendingCrowd loan terms
A £1.5 million loan was written to a Scottish E-commerce business in October 2015. This size of loan is an exception in the LendingCrowd loan book which has an average loan size of £91,105. This has skewed the data and resulted in Scotland having the highest proportion of loans (30.4%) across all years of lending.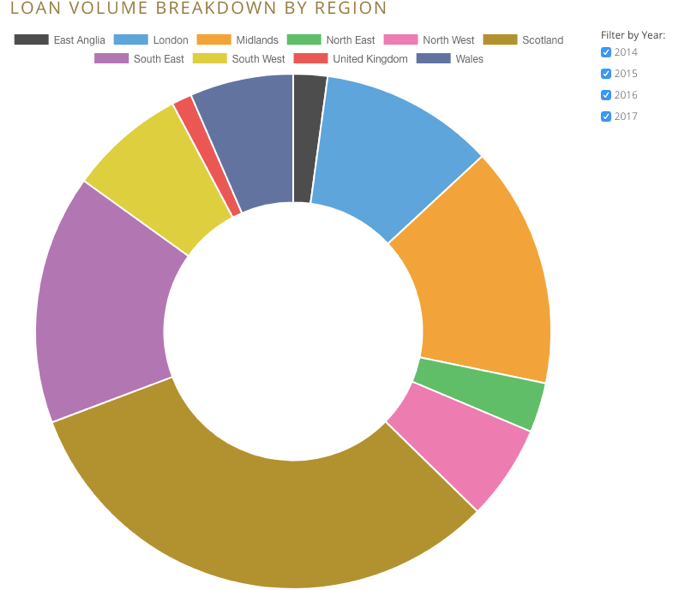 Figure 4: LendingCrowd loan volume by region, all time
If we consider lending in 2017 only we can see that the proportion of lending in Scotland is less (20.3%) than the proportion across all years. This potentially signals that the Scottish based platform is focusing efforts to originate loans across the UK, adding geographic diversification to the loan book.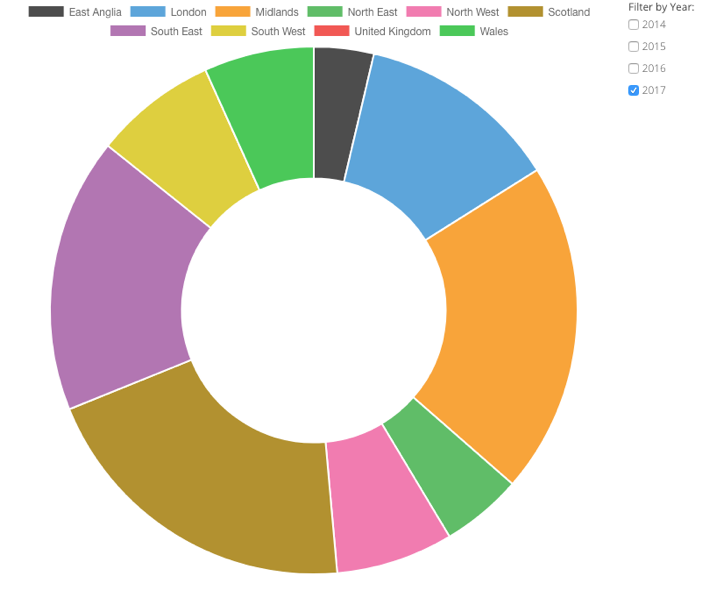 Figure 5: LendingCrowd loan volume by region 2017
Similarly, we can see a spread of lending purposes, with business expansion and working capital being the main purposes for borrowing. It's worth noting that these two lending categories are the most dominant across the Funding Circle loan book as well.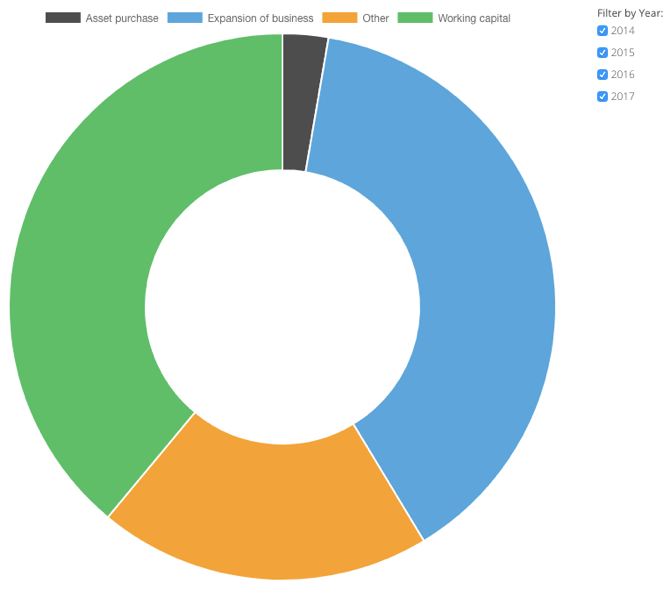 Figure 6: LendingCrowd loan purpose
Investment products
Advertised rates on the Self-Select option range from 6.5%-13.5% and 6% for the Growth product. Similar to Funding circle, LendingCrowd charges investors a 1% annual fee on the amount invested. Investments are ongoing until all repayments have been made, unless investors wish to withdraw early. Investors who wish to exit their investments are required to sell their loan parts on the LendingCrowd secondary market. A fee of 0.5% is present.
Performance
Although the majority of loans are still in circulation we have conducted loan by loan cashflow analysis on every loan originated by LendingCrowd. As the years progress, the percentage of assets (loans) under management increases, and the accuracy of net returns estimates decreases.
The chart below assumes that all loans still in circulation complete as planned with all repayments made (no default estimation has been applied). The actual net return will therefore be reduced as loans progress through their term. We've further plotted this against the estimated net return displayed on the LendingCrowd website.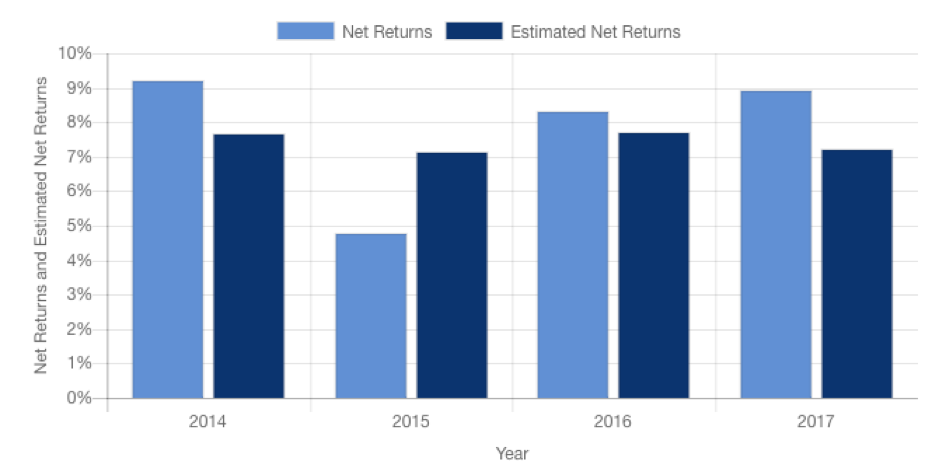 Figure 7: LendingCrowd net return
Below we can see the actual default rates that have occurred on the LendingCrowd platform relative to the estimated default rates taken from the LendingCrowd website. This rate will rise in recent years as loans progress through their term.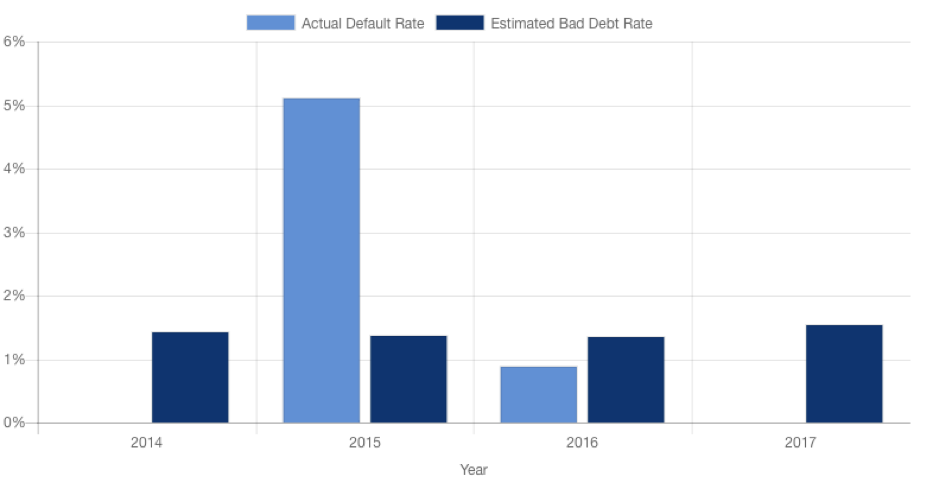 Figure 8: LendingCrowd default rate
A default rate of 5.12% can be seen in 2015 which relates to 6 loans with outstanding capital of £215,098.
Very similar borrowers to Funding Circle
The type of borrowers LendingCrowd is attracting appears to be very similar to Funding Circle. We can see below a comparison of the weighted average borrower rates and loan amounts of LendingCrowd relative to Funding Circle. Both the borrower rate and average loan amounts are very close to Funding Circle, indicating that the businesses are attracting similar borrowers.

The borrower marketing messages listed on the LendingCrowd website is also similar to Funding Circle.

The spread of lending at LendingCrowd is fairly narrow, a good sign for a lender who is still building up their credit models. As volumes increase they will become more experienced at originating and assessing this group of lenders, which in turn will lead to a more predictable performance.
Conclusion
The size of the LendingCrowd loan book is modest but is growing rapidly. With 50% of the loan terms set at 5 years and over half of the lending occurring in 2017, it is difficult to fully assess the quality of the loans originated on the platform. That said, there are no alarm bells after assessing the loan book. As with any P2P investment, investors can mitigate the risk a particular platform presents by diversifying across a number of P2P platforms as well as a large number of borrowers.
There are strong parallels between both the operations and borrower types of LendingCrowd and Funding Circle. For investors who enjoyed manually selecting individual Funding Circle borrowers, LendingCrowd may be an alternative that is worth a look.
Originally written by Iain Niblock from Orca Money, published 25th October 2017.