Our previous How To guide for investors explained the process of buying a loan part on the Loan Exchange. Once you've built up your portfolio of loans, you may want to sell some of your loan parts to free up capital for reinvestment. This guide goes through the process of how to sell a loan part on the Loan Exchange.
1. Go to My Investments
Log in to your Investor Account and go to the My Investments section of the Investor Summary page. This will give you an alphabetised list of all the investments you currently hold, and how many loan parts of each loan you have.
2. Manage your loan part listings
Click Manage beside the investments you want to list for sale. This will take you to the Manage Loan Parts page, where you can see the interest rate, total principal, and number of outstanding repayments for each loan part you have in this loan.

Each part also has its Loan Exchange Status shown. To list the loan part for sale, click the slider and the status will change to Live, meaning the loan part is listed on the Loan Exchange. You will then need to accept the Terms & Conditions and click Confirm to save your changes.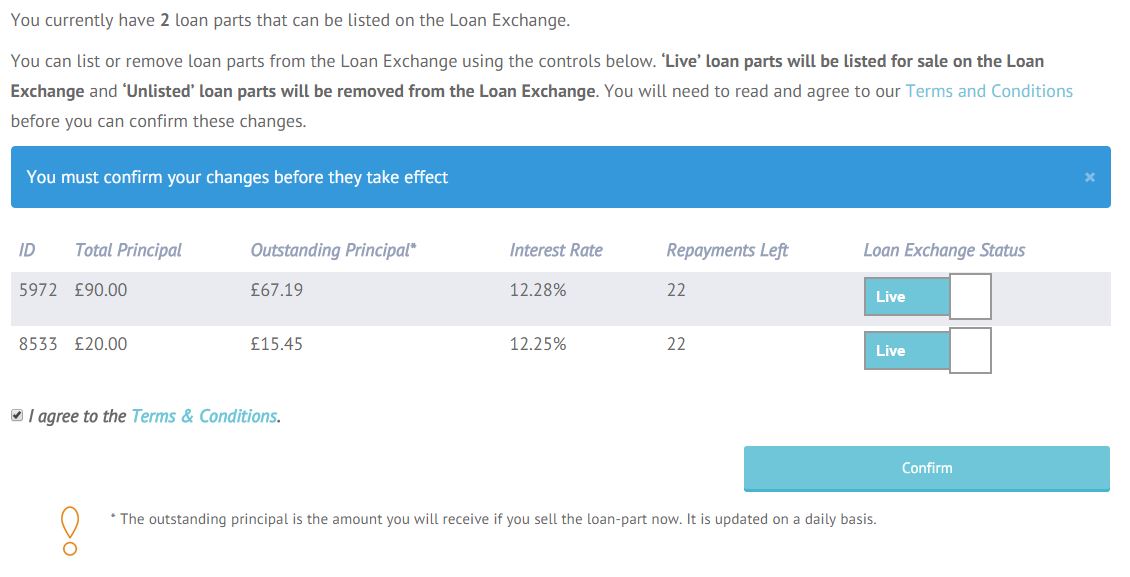 Please note that there is a 0.5% fee charged on the value of the loan part sold. If you change your mind before a whole loan part has been sold, you can choose to 'unlist' it from the Manage page to return it to your investment portfolio.
3. Your loan part is bought
Once your loan part is listed on the Loan Exchange, it becomes part of the available investments for that loan. The interest rate listed for each company loan is indicative of the weighted average interest rate of all the investments available for that loan. All of the investments listed for sale will have rates contributing to this indicative weighted average. The average rate is weighted by the different values of the available investments. Please note that you will never be left with a loan part worth less than £20.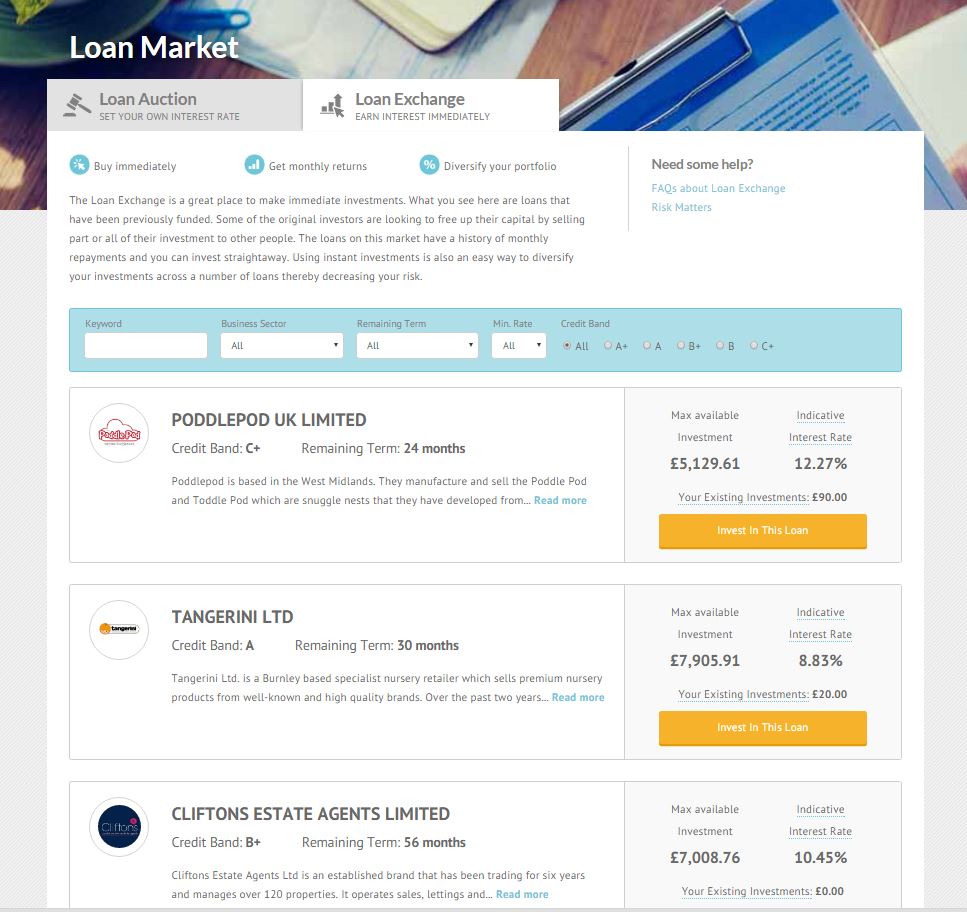 When you sell a loan part to another investor, you will receive an email informing you of how much has been sold, the fee you have paid on the sale, and your total earnings from the sale.
The Loan Exchange gives you the opportunity to create liquidity within your portfolio as you can sell your loan parts during the lifetime of the loan (please note that if a borrower starts to experience repayment issues, we may have to remove the loan from the Loan Exchange until this issue is resolved). This will give you the chance to refresh your investment portfolio with new investments.
We hope this guide helps give you more information about how to sell a loan part on the Loan Exchange. If you have any questions please email investor@lendingcrowd.com or call us on 0131 564 1600.
LendingCrowd matches investors with small and medium sized businesses (SMEs) seeking business loans. Our community of lenders from across the UK has funded more than £5.5million in loans to over 60 UK businesses to date. LendingCrowd investors are currently earning an average interest rate of 7.2%* on their investments.