The end of the 2016/2017 tax year is 5th April 2017, just 5 days away. This is the deadline to add funds to your Individual Savings Accounts (ISAs) in the current tax year. Up to £15,240 can be added to ISAs before the end of the current tax year – but be aware that any of this allowance that isn't used by midnight on 5th April cannot be rolled over to the new tax year, which starts on 6th April 2017. It's important to use as much of the ISA allowance as you can each tax year to take full advantage of the tax-free benefits on offer.
Investors can open one Cash ISA, one Stocks & Shares ISA and one Innovative Finance ISA (IFISA) in each tax year, and can invest £15,20 in total in ISAs. The ISA allowance rises to £20,000 in the 2017/2018 tax year, so there's even more opportunity to earn tax-free returns!
Invest in peer-to-peer lending with our IFISA
IFISAs are the newest category of ISA and allow peer-to-peer investments to be held within an ISA so investors will not pay tax on peer-to-peer returns.
The LendingCrowd IFISA launched in February 2017 and offers a target interest rate of 6%p.a.*, with a quick and simple investment process. We only lend to established UK businesses that have passed our rigorous credit assessment and we take security on every loan.
Invest from £1,000 up to the ISA limit with no personal taxes to pay on your returns. Funds added to your LendingCrowd ISA are automatically invested in at least 20 loans to give you a diversified investment portfolio and all repayments are reinvested so your money grows month on month.
There's no fixed term on the ISA so you're free to access your funds at any time, subject to an exit fee.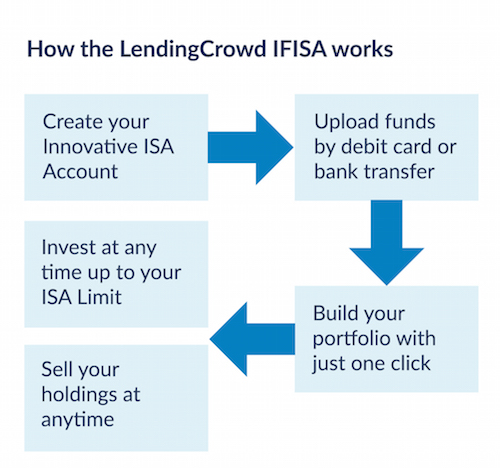 *Your capital is at risk. This is a variable target rate net of ongoing management fees and estimated bad debt and before the 1% exit fee
What is the deadline for investing the ISA allowance in the current tax year?
Subscriptions will be classified for the 2016/17 tax year provided you register for your IFISA, and we receive your funds, by 11pm on 5th April 2017.
However please note that there are factors outside our control should you leave it late:
A new investor may fail an automated AML check. In this case we will not be able to complete your registration until the next working day and only after we receive necessary proof of identification

ISA subscriptions via debit card may be declined by your bank due to the bank's automated fraud checks

ISA subscriptions via bank transfer are subject to delays in the banking system and we may not receive funds the same day as they were transferred
Open your LendingCrowd IFISA today to make sure you don't miss out!