You are here: Home » Fees Overview
Our fees explained
Our fees are simple and transparent so there are no surprises when you invest with LendingCrowd. There are no charges to open any of our accounts or to add funds and you only pay fees on the amount invested.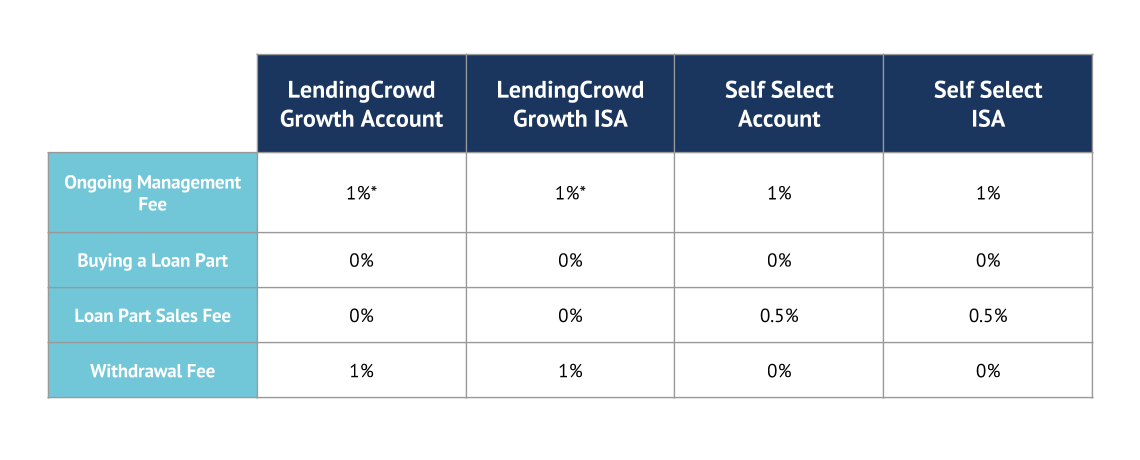 Ongoing Management Fee
An ongoing management fee, which is the difference between the rate you lend to a borrower and the interest you receive, is charged on a monthly basis. This fee is taken from each monthly repayment made by the borrower. For example if you lend at a rate of 9% you will receive 8% after this management fee. *The ongoing management is included in the target rate in both the LendingCrowd Growth Account and LendingCrowd Growth ISA.
Buying a Loan Part
We don't charge a fee for buying a loan part.

Withdrawal Fee
The withdrawal fee for the LendingCrowd Growth Account and LendingCrowd Growth ISA is paid only when a withdrawal is made from the account, not when a loan is sold. It is not included in the target rate for these accounts.
Loan Part Sales Fee
A 0.5% fee is charged if you wish to sell a loan part. This fee is charged on the capital sold. The seller continues to earn interest while the loan is listed for sale. If a loan is sold mid-way through a month the seller will be paid any interest earned when the next monthly repayment is made.