LendingCrowd is a peer to business crowdlending platform... but just what is crowdlending? Crowdlending simply means that many individuals come together to lend money to small businesses that are seeking a loan, but don't want to use a bank.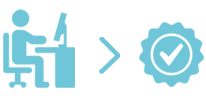 Borrowers join LendingCrowd to raise money for lots of reasons. Every business that submits an application is assessed by our Credit Team, who determine whether the business is creditworthy. By the end of the assessment, every business is awarded a Credit Band. Successful businesses are placed on the Loan Market.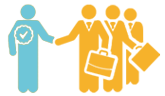 Investors can then lend to one or more creditworthy businesses on the Loan Market at a rate they choose. To do that investors load funds to their LendingCrowd account, which is used to place bids on available business loans. The minimum bid investors can place are based upon the credit band each company is assigned, meaning you understand the risks and rewards of the investments you make. Investors can also invest immediately by buying parts of an existing loan via the Loan Exchange.

The borrower receives the money they need once the loan is filled and accepted. When the business starts paying back the loan, investors begin receiving monthly repayments based on the overall average interest rate that was bid for the business.

Guides
Sign up for updates and we'll send you a free guide to getting started.

FAQs
The most frequently asked questions by our loyal investors and borrowers.

Visit our Help Center
or call us on
0345 564 1600
and we'll be happy to help.
As an Investor it's important to remember you're lending to businesses so your capital is at risk and Borrowers need to be mindful that defaulting will lead to the debt being passed to an Agency for collection. LendingCrowd and its products are not covered by the Financial Services Compensation Scheme.